At a Glance
Surgery duration: 1 to 3 hours (outpatient)
Anesthesia: Exclusively local anesthesia (tumescent anesthesia)
Preliminary examinations: Blood test, further examinations depending on the patient's state of health
Check-ups: To be arranged on an individual basis
The number of diabetes cases being diagnosed is on the increase. In the case of type 1 diabetes, this is the beginning of a lifelong insulin therapy in order to replace the autologous hormone, which is essential to regulate blood sugar concentration. This therapy is frequently very unpleasant for the patient, as the hormone has to be injected under the skin several times a day.
At present, the treatment of diabetes with autologous stem cells from fat cannot generally be recommended, as there is not enough data available. There is, however, evidence suggesting that the growth factors released by the administered stem cells stimulate the remaining insulin-producing cells to reproduce. In addition, an immune suppressive effect is under discussion, which should reduce defective regulation and the associated damage caused to the pancreas.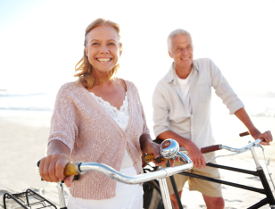 Apart from diabetes, numerous studies have been conducted on the possible therapeutic benefit of stem cells from fat in a number of other organ diseases such as asthma, ulcerative colitis, erectile dysfunction and Crohn's disease. The stem cells appear to stimulate the body to regenerate the respective organ and to suppress the overreaction of the immune system that underlies the disease.
My joint problems started with two surgeries, after which I could hardly bend my knee. This limited me in playing football. I decided to get a stem cell treatment at the Viennese doctor DDr. Heinrich. After a while, I was free of pain and could bend my foot again. Now I have no more pain at all. I am very thankful for this second chance.
I suddenly got problems with my knee joint. In the end, I suffered from severe knee pain and I could barely descend stairs. After an unsuccessful injection therapy I saw a TV report about a stem cell therapy carried out by DDr. Heinrich. A few weeks after the procedure the effect became apparent: My pain has almost completely disappeared. Most of all I am glad that I can finally go for a walk without any pain again.
I had permanent pain in the knees and the spine and could only walk short distances. Hiking, skiing, and cycling were impossible. My relatives often helped me at home. I felt in good hands in the Clinic DDr. Heinrich®. After the procedure my condition got better and better. The knees barely hurt after 3 weeks, the pain in the spine faded. I am very glad that I can go for light walks again!
For several years I suffered from pain in the knee joint, which worsened. Unfortunately I could not ski and hike anymore. Then I learned about treatment with my own stem cells. My severe pain has already decreased significantly shortly after the procedure. Meanwhile, I am painless in everyday life. I am very thankful to DDr. Heinrich and his team for this plus in quality of life!
After a stroke I was dependent on crutches and often felt tired. Unfortunately, there was no further improvement. I did not want to accept that. After the outpatient treatment with my own stem cells my mobility increased noticeably. The balance problems improved and the paralysis completely subsided. As a pleasant positive side effect the strong tiredness is almost completely gone. Now I do not need any help in everyday life.
Over the past 5 years, the pain in my forefeet has been getting worse. Standing upright and climbing stairs made me feel uncomfortable. Pain medications only led to a short improvement. The regenerative treatment with my own fat stem cells convinced me. After the treatment of my feet, I noticed that the pain was steadily declining. I do not need painkillers anymore and I can go for a walk again.
My hip and knee pain got so bad over time that I could not move freely in my everyday life. By chance, I learned about the stem cell joint treatment offered by Clinic DDr. Heinrich® and decided to undergo this treatment. The team of the clinic was very friendly and cared for me very well. Now I am mobile again and I can even tie my shoes without pain.
I have always enjoyed activities in the open air, but since the knee pain began I was unable to go hiking without being restricted by the pain. Then I heard that DDr. Heinrich performs stem cell therapy and decided to have my knee treated by him with my own stem cells. After the procedure, I noticed a steady improvement. The rapid progress was especially obvious when walking and climbing stairs.
The autologous stem cells needed for therapy are harvested from a small portion of fat, gently extracted using local anesthesia. The stem cells are introduced into the body immediately afterwards where their regenerative effect begins to work. The patient is fully mobile after treatment and can resume normal everyday activities.
Please note that no guarantees or promise of cure can be given in medicine generally; this also applies to advanced treatments such as stem cell therapy. Although we carry out your surgery with the greatest care and have achieved excellent results in part with stem cell treatment, adult stem cells are not a universal remedy.
Schedule appointment or Skype information now
Scientific Information
Cho, K.S., Roh, H.J.: Immunomodulatory effects of adipose-derived stem cells in airway allergic diseases. Curr Stem Cell Res Ther June 2010; 5 (2): 111–5.
El-Badri, N., Ghoneim, M.A.: Mesenchymal Stem Cell Therapy in Diabetes Mellitus: Progress and Challenges. J Nucleic Acids 2013; 2013 (194858). Epub May 15, 2013.
Ezquer, F., Ezquer, M., Arango-Rodriguez, M., Conget, P.: Could donor multipotent mesenchymal stromal cells prevent or delay the onset of diabetic retinopathy?. Acta Ophthalmol June 15, 2013. Epub ahead of print.
Granel, B., Daumas, A., Jouve, E.,

et al.

: Safety, tolerability and potential efficacy of injection of autologous adipose-derived stromal vascular fraction in the fingers of patients with systemic sclerosis: an open-label phase I trial. Ann Rheum Dis August 11, 2014. Epub ahead of print.
Kim, E.J., Kim, N., Cho, S.G.: The potential use of mesenchymal stem cells in hematopoietic stem cell transplantation. Exp Mol Med January 10, 2013; 45 (e2).
Kwon, E.B., Lee, J.Y., Piao, S.,

et al.

: Comparison of human muscle-derived stem cells and human adipose-derived stem cells in neurogenic trans-differentiation. Korean J Urol December 2011; 52 (12): 852–7. Epub December 20, 2011.
Li, Q., Zhou, X., Shi, Y.,

et al.

: In vivo tracking and comparison of the therapeutic effects of MSCs and HSCs for liver injury. PLoS One 2013; 8 (4): e62363. Epub April 30, 2013.
Lin, C.-S.: Advances in stem cell therapy for the lower urinary tract. World J Stem Cells February 26, 2010; 2 (1) 1–4.
Lin, G., Banie, L., Ning, H.,

et al.

: Potential of adipose-derived stem cells for treatment of erectile dysfunction. J Sex Med March 2009; 6 (Suppl. 3): 320–7.
Okura, H., Komoda, H., Fumimoto, Y.,

et al.

: Transdifferentiation of human adipose tissue-derived stromal cells into insulin-producing clusters. J Artif Organs 2009; 12 (2): 123–30. Epub June 18, 2009.
Panés, J., Van Assche, G., García-Olmo, D.,

et al.

: Expanded allogeneic adipose-derived mesenchymal stem cells (Cx601) for complex perianal fistulas in Crohn's disease: a phase 3 randomised, double-blind controlled trial. Lancet September 24, 2016; 388 (10051): 1281–90, Epub July 29, 2016.
Reinders, M.E., Leuning, D.G., de Fijter, J.W.,

et al.

: Mesenchymal Stromal Cell Therapy for Cardio Renal Disorders. Curr Pharm Des June 20, 2013. Epub ahead of print.
Timper, K., Seboek, D., Eberhardt, M.,

et al.

: Human adipose tissue-derived mesenchymal stem cells differentiate into insulin, somatostatin, and glucagon expressing cells. Biochem Biophys Res Commun March 24, 2006; 341 (4): 1135–40. Epub January 26, 2006.
Tzouvelekis, A., Paspaliaris, V., Koliakos, G.,

et al.

: A prospective, non-randomized, no placebo-controlled, phase Ib clinical trial to study the safety of the adipose derived stromal cells-stromal vascular fraction in idiopathic pulmonary fibrosis. J Transl Med 2013; 11 (171). Epub July 15, 2013.
Wang, H.-C., Brown, J., Alayon, H., Stuck, B.E.: Transplantation of quantum dot-labelled bone marrow-derived stem cells into the vitreous of mice with laser-induced retinal injury: survival, integration and differentiation. Vision Res March 31, 2010; 50 (7): 665–73. Epub September 25, 2009.
Zeppieri, M., Salvetat, M.L., Beltrami, A.P.,

et al.

: Human adipose-derived stem cells for the treatment of chemically burned rat cornea: preliminary results. Curr Eye Res April 2013; 38 (4): 451–63. Epub February 1, 2013.
Zhao, W., Li, J.-J., Cao, D.-Y.,

et al.

: Intravenous injection of mesenchymal stem cells is effective in treating liver fibrosis. World J Gastroenterol March 14, 2012; 18 (10): 1048–58. Epub March 14, 2012.
This page serves the purpose of information only and is not to be understood as medical advice. We would like to expressly point out that a cure cannot be guaranteed. Stem cell therapy is an advanced procedure, which has only recently been applied worldwide and for which the long-term studies and reliable documentation on successes, risks and side effects required for a recognized procedure are not yet available.
The legislation on stem cell therapies and conducting of new therapies varies from country to country worldwide. In our clinic in Austria we only carry out the treatments permitted under the applicable legal situation. For other treatments we have worldwide contacts in our cooperation network and can support the selection of specialized medical facilities abroad.