At a Glance
Surgery duration: 1 to 3 hours (outpatient)
Anesthesia: Exclusively local anesthesia (tumescent anesthesia)
Sport: After several days at the earliest (according to the extent/type of area treated)
Normal social activities: The day after treatment at the earliest (according to the extent/type of area treated)
Preliminary examinations: Blood test, further examinations depending on the patient's state of health
Bandage: Normally only overnight
Incapacity to work: Generally no restrictions
Check-ups: To be arranged on an individual basis
Autologous stem cells from the body's own fat enable promising, gentle forms of treatment for the regeneration of skin, hair and tissue. In many cases they obviate the need for complicated surgical treatment such as facelifts, in which skin is cut away, and hair transplants.
Treatment with stem cells from fat or stem cell-enriched autologous fat is suited for skin rejuvenation and wrinkle treatment on the face, cleavage, hands and body, the correction of unevenness, dents and volume deficits on the thighs, bottom, abdomen and other areas of the body, as well as for the correction of scars and the treatment of poorly healing wounds.
Skin, Hair and Tissue
The efficiency of our body functions, the biological quality of tissue and the regenerative capacity of the body decrease during the course of a lifetime.
This process can be accelerated by overloading, (continuous) stress, malnutrition, disease, etc. The external effects of degenerative processes inside the body manifest in skin, hair and tissue. The skin on the face and body sag, subcutaneous tissue, muscles and all other body structures regress, hairs fall out and become thinner and more brittle.
Stem Cells as the Body's Own Fountain of Youth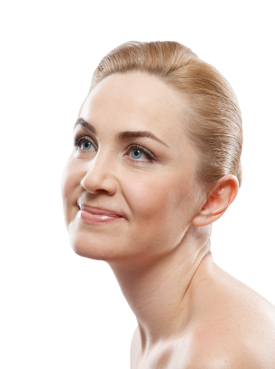 Stem cells play a central role in the regeneration of skin and tissue. Every person has enough of them: Fat tissue is the body's richest reserve of stem cells and connective tissue progenitor cells. These stem cells can be obtained from a small quantity of fat and used for therapeutic purposes immediately afterwards.
Introduced locally, stem cells from autologous fat effect the regeneration of skin and tissue thanks to their biological potential. Wrinkles can be made to disappear and hair growth stimulated. Stem cell-enriched autologous fat is suited for the long-term sustainable correction of volume deficits and tissue defects.
Some years ago I was diagnosed with scleroderma with Raynaud's syndrome. I spent a lot of time in the hospital without much success. Then I heard about the body's own stem cells. Soon after the procedure I noticed the first positive changes. It is pleasant to wake up without pain. No one had expected that the inflammation of the skin would decline. I am very happy about the new quality of life.
Mesotherapy with skin growth factors (epidermal growth factors) or hair growth factors are a simplified alternative to treatment with stem cells. To a certain degree, this therapy can imitate the regenerative effect of stem cell therapy. The growth factors are thereby introduced into the skin with microneedles, without injuring the skin.
What Happens During Stem Cell Treatment?
The autologous stem cells used in stem cell therapy are extracted from a small quantity of your body fat, harvested manually either with fine microcannulas or the somewhat thicker regular cannulas, according to your wishes.
Depending on the indication, only the stem cells are injected gently into the areas to be treated as a suspension, or stem cell-enriched autologous fat (cell-assisted lipotransfer, CAL). Compared with conventional treatment with autologous fat, stem cell enrichment makes the results of treatment last longer.
Stem cell therapies can be combined with other treatments. The body silhouette can be optimized during liposuction. According to the indication, the effect of the stem cell therapy can be enhanced with treatment using growth factors or platelet-rich plasma (PRP). For therapies serving the purpose of regeneration, an additional cure with bioidentical hormones is often recommended.
The Time After
Stem cell therapy for skin, hair and tissue is carried out on an outpatient basis. You are mobile afterwards and will be discharged to go home. Normally, you will be able to go back to work on the day afterwards.
According to the type of therapy carried out and the areas of the body treated, you will have to wear a plaster or a bandage until the next morning. After treatment, bruises, reddening or swelling may occur.
Any bruises visible after facial treatment can be covered up with make-up. If treatment was carried out with stem cell-enriched autologous fat, you should not wear tight clothing for some time to avoid putting pressure on the areas treated.
All after photos show the results actually achieved by the treatment. To protect the anonymity of the depicted persons individual physical characteristics (e.g., moles, tattoos) might have been removed.
Schedule appointment or Skype information now
Scientific Information
Amirkhani, M.A., Shoae-Hassani, A., Soleimani, M.,

et al.

: Rejuvenation of facial skin and improvement in the dermal architecture by transplantation of autologous stromal vascular fraction: a clinical study. Bioimpacts 2016; 6 (3): 149–54. Epub September 30, 2016.
Fukuoka, H., Suga, H., Narita, K.,

et al.

: The latest advance in hair regeneration therapy using proteins secreted by adipose-derived stem cells. American Journal of Cosmetic Surgery December 2012; 29 (4): 273–82.
Granel, B., Daumas, A., Jouve, E.,

et al.

: Safety, tolerability and potential efficacy of injection of autologous adipose-derived stromal vascular fraction in the fingers of patients with systemic sclerosis: an open-label phase I trial. Ann Rheum Dis August 11, 2014. Epub ahead of print.
Hassan, W.U., Greiser, U., Wang, W.: Role of adipose-derived stem cells in wound healing. Wound Rep Reg May–June 2014; 22 (3): 313–25.
Huang, S.-P., Huang, C.-H., Shyu, J.-F.,

et al.

: Promotion of wound healing using adipose-derived stem cells in radiation ulcer of a rat model. J Biomed Sci 2013; 20 (1). Epub July 22, 2013.
Kim, J.-H., Jung, M., Kim, H.-S.,

et al.

: Adipose-derived stem cells as a new therapeutic modality for ageing skin. Exp Dermatol May 2011; 20 (5): 383–7. Epub February 28, 2011.
Kim, W.-S., Park, B.-S., Park, S.-H.,

et al.

: Antiwrinkle effect of adipose-derived stem cell: activation of dermal fibroblast by secretory factors. J Dermatol Sci February 2009; 53 (2): 96–102. Epub October 1, 2009.
Kim, W.-S., Park, B.-S., Sung, J.-H.: Protective role of adipose-derived stem cells and their soluble factors in photoaging. Arch Dermatol Res June 2009; 301 (5): 329–36. Epub April 26, 2009.
Menendez-Menendez, Y., Alvarez-Viejo, M., Ferrero-Gutierrez, A.,

et al.

: Adult Stem Cell Therapy in Chronic Wound Healing. J Stem Cell Res Ther 2014; 4 (162). Epub January 25, 2014.
Park, B.-S., Kim, W.-S., Choi, J.-S.,

et al.

: Hair growth stimulated by conditioned medium of adipose-derived stem cells is enhanced by hypoxia: evidence of increased growth factor secretion. Biomed Res Februrary 2010; 31 (1): 27–34.
This page serves the purpose of information only and is not to be understood as medical advice. We would like to expressly point out that a cure cannot be guaranteed. Stem cell therapy is an advanced procedure, which has only recently been applied worldwide and for which the long-term studies and reliable documentation on successes, risks and side effects required for a recognized procedure are not yet available.
The legislation on stem cell therapies and conducting of new therapies varies from country to country worldwide. In our clinic in Austria we only carry out the treatments permitted under the applicable legal situation. For other treatments we have worldwide contacts in our cooperation network and can support the selection of specialized medical facilities abroad.