At a Glance
Surgery duration: 30 minutes to 2 hours (outpatient)
Anesthesia: Exclusively local anesthesia (tumescent anesthesia)
Mobility: Directly after surgery
Preliminary examinations: Blood test, further examinations depending on the patient's state of health
Check-ups: To be arranged on an individual basis
As a consequence of overweight and excessive stress during sports, many people already suffer from joint problems and injuries at a relatively young age. In most cases, the knee, shoulder and finger joints are affected, and in older persons, also the hip joints and spine.
Apart from weight loss, only physiotherapy, special training or symptomatic pain therapy are recommended for diseases described in medicine as osteoarthritis (also known as arthritis, degenerative arthritis, degenerative joint disease, osteoarthrosis). Subsequently, the progress is observed. If the condition worsens, an artificial joint (joint implant) is inserted.
However, an artificial joint can never replace a natural one. Surgery lasting several hours under general anesthesia is complicated, laborious and expensive. In many cases, blood transfusions are necessary.
Using Stem Cells for Osteoarthritis, Deteriorated Cartilages and Joint Problems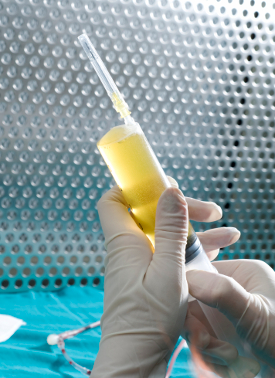 The regenerative powers of stem cells have been used in veterinary medicine for some time now. Racehorses and dogs suffering from joint problems and sports injuries are treated with stem cells obtained from the fat of these animals. Stem cells extracted from the animals' autologous fat appear to be suited for the regeneration of damaged joints, bones and cartilages.
Results from studies on humans sound promising: Patients treated with stem cells from autologous fat stated that they suffered less pain and that their mobility had increased considerably. If damaged joints are treated early with stem cells, patients could be given a better quality of life and furthermore be spared the necessity of having an artificial joint for the time being.
In my hair salon, I am constantly on my feet. This has put my knees on my knees and I suffered from pain. I wanted to avoid knee surgers and therefore decided to undergo the treatment with fat stem cells. Now I am free of pain and able to ski and bike again. I recommend Clinic DDr. Heinrich®.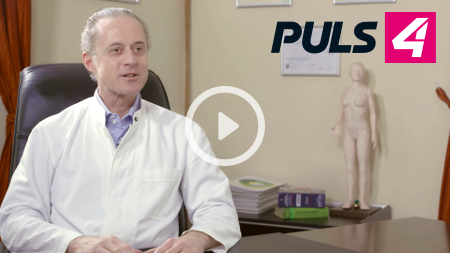 Stem cells and progenitor cells of the connective tissue, so-called mesenchymal stem cells (MSC), may play a pivotal role in the regeneration of deteriorated cartilages, bones and joints. Every person has enough of these vital cells, since fat tissue contains them in large quantities. Artificial reproduction of them in laboratories is therefore unnecessary.
Stem Cell Therapy for Sports Injuries
For torn muscle fibers and also extremely painful sports injuries requiring a longer healing period, there are indications that stem cells have the potential to speed up regeneration and healing.
During treatment, a small quantity of fat is extracted with microcannulas, using local anesthesia, from which the stem cells are then isolated. Immediately afterwards, the stem cells are usually injected into the joint area affected or injured areas, for example, on knees, hips, hands, or fingers. Treatment is carried out on an outpatient basis. The patient is fully mobile afterwards.
When I climbed stairs my knee suddenly hurt badly. Unfortunately, the pain did not go away. Diagnosis: Cartilage damage in the knee. I could not do sports anymore. Then I decided to undergo joint treatment with my own fat stem cells. I was very well cared for by DDr. Heinrich and his team. What pleases me in particular is that I am now able to walk, cycle, and swim again!
For several years I suffered from pain in the knee joint, which worsened. Unfortunately I could not ski and hike anymore. Then I learned about treatment with my own stem cells. My severe pain has already decreased significantly shortly after the procedure. Meanwhile, I am painless in everyday life. I am very thankful to DDr. Heinrich and his team for this plus in quality of life!
For nearly forty years I suffered from constant pain in the knees, which restricted me in my house work and job. A few weeks after the treatment with my stem cells I noticed a clear improvement: In one knee, I am practically free of pain, in the other knee I occasionally still have slight limitations. I am happy that I have regained my independence in everyday life.
For about 7 years I was suffering from knee pain, which was getting worse and worse. Climbing stairs and going downhill caused severe pain in the knees. Injection of hyaluronic acid only helped temporarily. After the stem cell treatment of my knees in Clinic DDr. Heinrich®, the stinging pain disappeared. I would do the surgery again – my recommendation!
My hip and knee pain got so bad over time that I could not move freely in my everyday life. By chance, I learned about the stem cell joint treatment offered by Clinic DDr. Heinrich® and decided to undergo this treatment. The team of the clinic was very friendly and cared for me very well. Now I am mobile again and I can even tie my shoes without pain.
The regenerative effect should begin in the weeks following treatment. A potential repeat treatment session would take place several months after the initial treatment, depending on the extent of symptom improvements.
Kindly note that no guarantees or promise of cure can be given in medicine generally; this also applies to advanced treatments such as stem cell therapy. Although we carry out your surgery with the greatest care and have achieved excellent results in part with stem cell treatment, adult stem cells are not a universal remedy.
Schedule appointment or Skype information now
Scientific Information
Arthur, A., Zannettino, A., Gronthos, S.: The therapeutic applications of multipotential mesenchymal/stromal stem cells in skeletal tissue repair. J Cell Physiol February 2009; 218 (2): 237–45.
Bansal, H., Comella, K., Leon, J.,

et al.

: Intra-articular injection in the knee of adipose derived stromal cells (stromal vascular fraction) and platelet rich plasma for osteoarthritis. In: J Transl Med March 19, 2017; 15 (141).
Bui, K.H.-T., Duong, T.D., Nguyen, N.T.,

et al.

: Symptomatic knee osteoarthritis treatment using autologous adipose derived stem cells and platelet-rich plasma: a clinical study. Biomed Res Ther 2014; 1 (1): 2–8.
Centeno, C.J., Busse, D., Kisiday, J.,

et al.

: Increased knee cartilage volume in degenerative joint disease using percutaneously implanted, autologous mesenchymal stem cells. Pain Physician May–June 2008; 11 (3): 343–53.
Centeno, C.J., Busse, D., Kisiday, J.,

et al.

: Regeneration of meniscus cartilage in a knee treated with percutaneously implanted autologous mesenchymal stem cells. Med Hypotheses December 2008; 71 (6): 900–8. Epub September 10, 2008.
Chen, F.H., Tuan, R.S.: Mesenchymal stem cells in arthritic diseases. Arthritis Res Ther 2008; 10 (223).
Devine, S.M., Bartholomew, A.M., Mahmud, N.,

et al.

: Mesenchymal stem cells are capable of homing to the bone marrow of non-human primates following systemic infusion. Exp Hematol February 2001; 29 (2): 244–55.
Diekman, B.O., Guilak, F.: Stem cell-based therapies for osteoarthritis: challenges and opportunities. Curr Opin Rheumatol January 2013; 25 (1): 119–26.
Fodor, P.B., Paulseth, S.G.: Adipose derived stromal cell (ADSC) injections for pain management of osteoarthritis in the human knee joint. Aesthet Surg J February 2015; 36 (2): 229–36. Epub August 3, 2015.
Garza, J.R., Santa Maria, D., Palomera, T.,

et al.

: Use of autologous adipose-derived stromal vascular fraction to treat osteoarthritis of the knee: a feasibility and safety study. J Regen Med March 16, 2015; 4 (1).
González, M.A., Gonzalez-Rey, E., Rico, L.,

et al.

: Treatment of experimental arthritis by inducing immune tolerance with human adipose-derived mesenchymal stem cells. Arthritis Rheum April 2009; 60 (4): 1006–19.
Jo, C.H., Lee, Y.G., Shin, W.H.,

et al.

: Intra-articular injection of mesenchymal stem cells for the treatment of osteoarthritis of the knee: a proof-of-concept clinical trial. Stem Cells May 2014; 32 (5): 1254–66.
Kasir, R., Vernekar, V.N., Laurencin, C.T.: Regenerative engineering of cartilage using adipose-derived stem cells. Regen Eng Transl Med December 1, 2015; 1 (1): 42–9. Epub November 30, 2015.
Kim, Y.S., Choi, Y.J., Suh, D.S.,

et al.

: Mesenchymal stem cell implantation in osteoarthritic knees: is fibrin glue effective as a scaffold?. Am J Sports Med January 2015; 43 (1): 176–85. Epub October 27, 2014.
Koh, Y.-G., Choi, Y.-J.: Infrapatellar fat pad-derived mesenchymal stem cell therapy for knee osteoarthritis. Knee December 2012; 19 (6): 902–7. Epub May 14, 2012.
Koh, Y.-G., Choi, Y.-J., Kwon, S.-K.,

et al.

: Clinical results and second-look arthroscopic findings after treatment with adipose-derived stem cells for knee osteoarthritis. Knee Surg Sports Traumatol Arthrosc December 11, 2013. Epub ahead of print.
Koh, Y.-G., Jo, S.-B., Kwon, O.-R.,

et al.

: Mesenchymal stem cell injections improve symptoms of knee osteoarthritis. Arthroscopy April 2013; 29 (4): 748–55. Epub January 29, 2013.
Koh, Y.G., Choi, Y.J., Kwon, O.R., Kim, Y.S.: Second-look arthroscopic evaluation of cartilage lesions after mesenchymal stem cell implantation in osteoarthritic knees. Am J Sports Med July 2014; 42 (7): 1628–37. Epub April 17, 2014.
Koh, Y.-G., Kwon, O.-R., Kim, Y.-S., Choi, Y.-J.: Comparative outcomes of open-wedge high tibial osteotomy with platelet-rich plasma alone or in combination with mesenchymal stem cell treatment: a prospective study. Arthroscopy November 2014; 30 (11): 1453–60. Epub August 16, 2014.
Kuroda, R., Ishida, K., Matsumoto, T.,

et al.

: Treatment of a full-thickness articular cartilage defect in the femoral condyle of an athlete with autologous bone-marrow stromal cells. Osteoarthritis Cartilage February 2007; 15 (2): 226–31. Epub September 26, 2006.
Manferdini, C., Maumus, M., Gabusi, E.,

et al.

: Adipose-derived mesenchymal stem cells exert antiinflammatory effects on chondrocytes and synoviocytes from osteoarthritis patients through prostaglandin E2. Arthritis Rheum May 2013; 65 (5): 1271–81.
Maumus, M., Manferdini, C., Toupet, K.,

et al.

: Adipose mesenchymal stem cells protect chondrocytes from degeneration associated with osteoarthritis. Stem Cell Res September 2013; 11 (2): 834-44. Epub June 4, 2013.
Murphy, M.B., Moncivais, K., Caplan, A.I.: Mesenchymal stem cells: environmentally responsive therapeutics for regenerative medicine. Exp Mol Med November 2013; 45 (11): e54. Epub November 15, 2013.
Orozco, L., Munar, A., Soler, R.,

et al.

: Treatment of knee osteoarthritis with autologous mesenchymal stem cells: a pilot study. Transplantation June 27, 2013; 95 (12): 1535–41.
Pak, J.: Regeneration of human bones in hip osteonecrosis and human cartilage in knee osteoarthritis with autologous adipose-tissue-derived stem cells: a case series. J Med Case Rep July 7, 2011; 5 (296).
Pak, J., Lee, J.H., Lee, S.H.: A novel biological approach to treat chondromalacia patellae. PLoS One May 20, 2013; 8 (5): e64569.
Pak, J., Chang, J.-J., Lee, J.H., Lee, S.H.: Safety reporting on implantation of autologous adipose tissue-derived stem cells with platelet-rich plasma into human articular joints. BMC Musculoskelet Disord; 14 (337). Epub December 1, 2013.
Pak, J., Lee, J.H., Lee, S.H.: Regenerative repair of damaged meniscus with autologous adipose tissue-derived stem cells. Biomed Res Int 2014; 2014 (436029). Epub January 30, 2014.
Pers, Y.-M., Rackwitz, L., Ferreira, R.,

et al.

: Adipose mesenchymal stromal cell-based therapy for severe osteoarthritis of the knee: a phase I dose-escalation trial. Stem Cells Transl Med July 2016; 5 (7): 847–56. Epub May 23, 2016.
Rada, T., Reis, R.L., Gomes, M.E.: Adipose tissue-derived stem cells and their application in bone and cartilage tissue engineering. Tissue Eng Part B Rev June 2009; 15 (2): 113–25.
Riester, S.M., Denbeigh, J.M., Lin, Y.,

et al.

: Safety studies for use of adipose tissue-derived mesenchymal stromal/stem cells in a rabbit model for osteoarthritis to support a phase I clinical trial. Stem Cells Transl Med October 26, 2016. Epub ahead of print.
Siennicka, K., Zolocinska, A., Stepien, K.,

et al.

: Adipose-derived cells (stromal vascular fraction) transplanted for orthopedical or neurological purposes: are they safe enough?. Stem Cells Int 2016; 2016: 5762916. Epub September 6, 2016.
Tapp, H., Hanley, E.N. Jr., Patt, J.C., Gruber, H.E.: Adipose-derived stem cells: characterization and current application in orthopaedic tissue repair. Exp Biol Med (Maywood) January 2009; 234 (1): 1–9.
ter Huurne, M., Schelbergen, R., Blattes, R.,

et al.

: Antiinflammatory and chondroprotective effects of intraarticular injection of adipose-derived stem cells in experimental osteoarthritis. Arthritis Rheum November 2012; 64 (11): 3604–13.
Uysal, A.C., Mizuno, H.: Tendon regeneration and repair with adipose derived stem cells. Curr Stem Cell Res Ther June 2010; 5 (2): 161–7.
Vangsness, C.T., Farr, J. II., Boyd, J.,

et al.

: Adult human mesenchymal stem cells delivered via intra-articular injection to the knee following partial medial meniscectomy: a randomized, double-blind, controlled study. J Bone Joint Surg Am January 15, 2014; 96 (2): 90–8.
Wakitani, S., Nawata, M., Tensho, K.,

et al.

: Repair of articular cartilage defects in the patello-femoral joint with autologous bone marrow mesenchymal cell transplantation: three case reports involving nine defects in five knees. J Tissue Eng Regen Med January–February 2007; 1 (1): 74–9.
This page serves the purpose of information only and is not to be understood as medical advice. We would like to expressly point out that a cure cannot be guaranteed. Stem cell therapy is an advanced and experimental procedure, which has only recently been applied worldwide and for which the long-term studies and reliable documentation on successes, risks and side effects required for a recognized procedure are not yet available.
The legislation on stem cell therapies and conducting of experimental therapies varies from country to country worldwide. In our clinic in Austria we only carry out the treatments permitted under the applicable legal situation. For other treatments we have worldwide contacts in our cooperation network and can support the selection of specialized medical facilities abroad.